Contact Us
888-581-2367
Contact us for a free on site security evaluation of your business or residence.
TOTAL CONNECT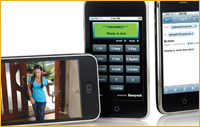 Total Connect's remote keypad feature works just like a security system keypad—letting you access and operate your system remotely from anywhere in the world when using your cell phone, BlackBerry®, iPhone®, iPod touch® or other wireless handheld device.
You can even download a convenient Apple® iPhone App!.
---
Total Connect's remote keypad is the perfect fit for your active life because it's security that goes with you—letting you enjoy extra mobility without ever compromising your safety or peace of mind.
Free Security Consultation
Customized Residential and Commercial Security Systems
24-hour Monitoring for Burglary, Fire, and Medical
Smoke Detectors
Carbon Monoxide Detectors
Sump Pump Monitors
Residential and Commercial Video Surveillance
Monitored Medical Panic Button Remotes
Access Control Systems
Warranties on Parts and Labor
---

Copyright 2023 | Q Security Solutions LLC
1408 N. Jefferson
Mexico, Missouri 65265